Developer certification
To become a Certified RoboFont Developer, all you need to do is to have an extension published in the Extension Store.
In case you're interested, get in touch with the RoboFont Team and provide your extension with some information:
What problem does it try to solve?
How should it be used?
The extension will be reviewed for code quality, usability, performance etc. We'll give you our feedback, and maybe some suggestions for improvements. Once we're both satisfied with the result, the extension will be made available on the store.
Rates and payments
The Extension Store uses the e-commerce platform FastSpring to handle all payments.
The net sales (total sales minus FastSpring fees) are split between the developer and the Extension Store in the following rates:
80% for the extension developer
20% for the store, to cover the administration fees
The distribution of payments is automated with FastSpring split payments.
FastSpring processes payments twice a month.
Publishing extensions
In order to publish an extension in the Extension Store, the developer will need to have accounts on GitLab and on FastSpring.
The extension needs to be hosted in a private GitLab repository, to which the Extension Store needs read & write access.
The extension's repository will be added to the Extension Store as a git submodule – so there is no interaction between the different extensions and developers.
Each repository needs to include an index.md file with general information about the extension. This file will be used by the Extension Store to create a presentation page for the extension. See the Example Extension for an example.
The Extension Store extension
The Extension Store extension allows RoboFont users to access the Extension Store from within RoboFont. It shows a list of all extensions available in the store, with options to buy the extension, and to update it (if it has already been bought and installed, and if an update is available) .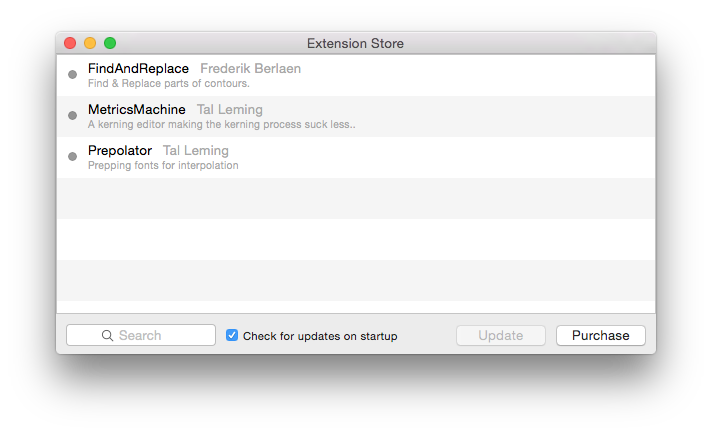 The Extension Store extension is available via Mechanic or from GitHub.
Certified developers
Requesting new extensions
Extension requests can be posted on the RoboFont Forum.